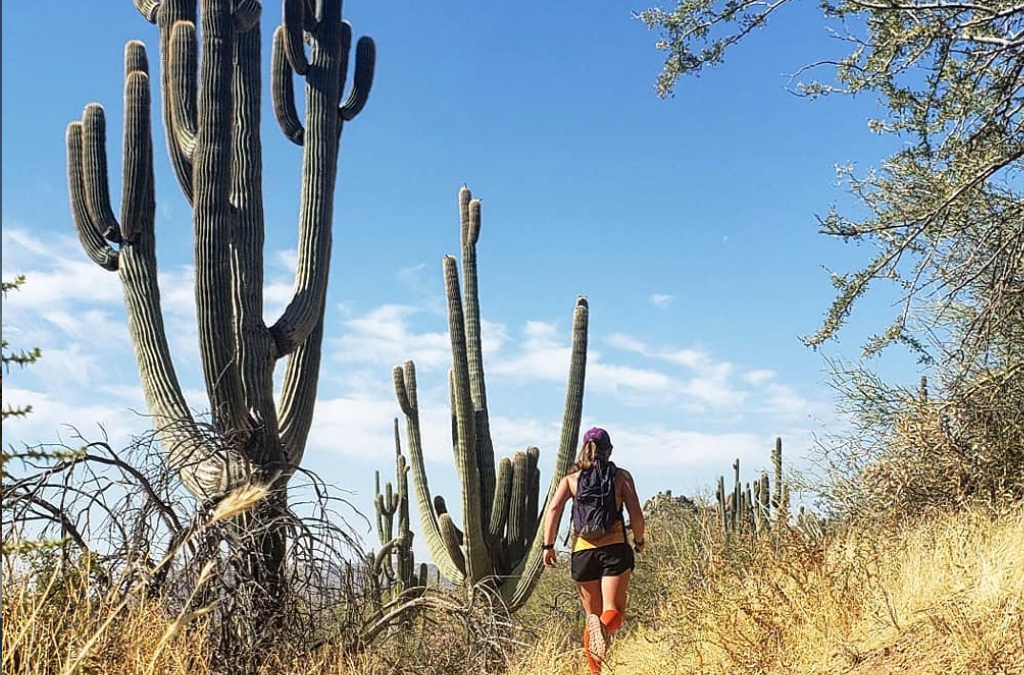 What better way to explore than through running! Moving to Arizona in March 2019, I was very eager to hit the road and find the best places to run. Below I've accumulated a mix of trails and roads I've found so far.
I'll update this on a regular basis as I find new locations, so bookmark this page and come back! If you have suggestions, please feel free to drop a comment.
Where to Run
Updated July 14, 2019
Long Loop Hike
Area: McDowell Sonoran Preserve
Distance:6.1 Mile Loop
Elevation: Ascent: 507′, Descent: -503′, High: 1,755′, Low: 1,559′
Directions: Granite Mountain Trailhead – 31402 N 136th St, Scottsdale, AZ 85262
Fees: None
Trail Amenities: None on the trail. Bathrooms at the trailhead. No water
Trail Guidance: Take the Bootlegger Trail, turn left onto Saddlehorn Trail at the fork, then right onto Granite Mountain Loop Trail, and back around.
Apache Wash Loop
Area: Sonoran Desert Preserve
Distance: 5.6 Mile Loop
Elevation: 200′ Change
Directions: Apache Wash Trailhead – 1600 E Sonoran Desert Dr, Phoenix, AZ 85085
Fees: None
Trail Amenities: None on the trail. Bathrooms at the trailhead. No water
Trail Guidance: From the Apache Wash Trailhead, start on the Sidewinder Trail. When you get to an intersection, take a right onto the labeled trail "Apache Wash Loop". Followup the loop back to the trailhead.
Tempe Town Lake Loop
Area: Tempe, AZ
Distance:
Elevation: 97′ (aka… flat)
Directions: Town Lake Marina Boat Launch, Tempe, AZ 85281
Fees: None
Trail Amenities: Restrooms at Town Lake Marina Boat Launch and at Tempe Beach Park. Scatter water fountains along trail Bathrooms at the trailhead. No water
Trail Guidance: Park anywhere along the route, but I found the boat launch to be easiest (on the north side of the lake). There is a trail that goes along the entire lake. There are several other bridge options with walking trails if you choose to shorten your loop.
Indian Bend Wash Greenbelt
Area: Scottsdale, AZ
Distance:

11 miles full trail, one-way
Multiple distances

Elevation: Unknown, generally flat
Directions: El Dorado Park (2311 N Miller Rd, Scottsdale, AZ 85257) is a good option for parking, though there are many options along the path
Fees: None
Trail Amenities: There are restrooms and water fountains in the parks along the entire route.
Trail Guidance: You'll run through parks, lakes, and golf courses! The greenbelt features 24 grade-separated crossings, meaning you can avoid major cross traffic. The trail connects on the north end to the Pima Road Trail and the Indian Bend Rd. to Shea Blvd. Trail. On the south end, the greenbelt runs into downtown Tempe, and the Tempe Lake trails.
Papago Park
Area: Phoenix, AZ
Distance: .5-3 Miles
Elevation: Varies
Directions: Papago Park – 625 N Galvin Pkwy, Phoenix, AZ 85008
Fees: None
Trail Amenities: Restrooms throughout the park with water fountains
Trail Guidance: View Various Trails Here
Related posts
About Me
I'm Liz Filion – I believe in chasing life outdoors by land & water. I'm a recent transplant to sunny Arizona all the way from the state of Washington. Wherever life takes me, my heart will always be anchored in the evergreens of the pacific northwest. I'm a runner, standup paddleboarder, and avid believer in seeking out adventure.
Learn more