2nd Marathon Recap: Seattle Rock 'n Roll
[vc_row][vc_column 0=""][vc_column_text]It's the day after completing my second marathon and I'm sitting here, yet again, in a place of humility and gratitude. I went into yesterday's race confident about the work I put in, but cautiously optimistic about what the results would be.
My first marathon destroyed me. I made a lot of mistakes (not enough miles, a lack of focus on nutrition, waiting to carb load until the night before, old shoes etc. etc.)  and struggled with injuries during training. The fear of having a repeat of that misery stuck with me – I still grimace thinking about the pain I experienced in miles 18-26. This time I was out to prove to myself that I could indeed enjoy this distance and beat the mental challenge I knew would face me 20+ miles in.
I regret not writing about my first marathon. There is so much to be learned from each of these experiences and it's important that I don't forget the highs and the lows of Marathon running.  So this time around, I am taking a moment to debrief and capture these feelings of excitement, humility, and gratitude after completing the Seattle Rock 'n Roll Marathon.[/vc_column_text][vc_images_carousel images="2583,2584,2589,2585,2588,2586,2595,2590,2591,2592,2593,2580,2612,2582,2581″ img_size="full" autoplay="yes" wrap="yes"][vc_column_text]
Race Day
After only four and a half hours of sleep (whoops…), I woke up to walk through my race morning routine: start the coffee, make breakfast, foam roll and stretch, eat, drink my coffee, take a shower to fully wake up, get ready, stretch some more, and well… use the bathroom. I may be a little OCD about this, but hey, it works and allows me to relax into the morning. I caught an Uber from Woodinville to the Husky Stadium, where I was dropped off on the side of the freeway and took a short walk up to the starting area. Though running behind schedule and entering the madness of thousands of people packed into a small area, I still felt calm and level headed.
Knowing how mentally challenging my first marathon was, I had decided to take the advice of Shalane Flanagan who I had listened to in The Runner's World Show podcast – to mentally train for the tough moments that would occur on the course. In the two weeks prior to race day, I spent time visualizing the course. I imagined the hills bigger than they were. I imagined myself hitting the wall hard at mile 20. I practiced how I would get over that wall. I would list off all the things I was grateful for in my life: the beautiful city that I lived in, my family, the first female runners that fought hard to give women like me the opportunity to run so freely, that spectator with the funny sign, water, that curb I just stretched on, etc. etc. Anything was allowed on the gratitude list as long as it kept me from thinking about slowing down or walking.
After a quick team warm-up/stretch/photo with Cascade Run Club (where I was reminded to start out slow), a 45-minute wait at the porta potties, and a quick jog up to the front of the starting line where the gun was about to go off for coral number 15, I pressed play on my podcast. And what do you know – the most recent episode of The Runner's World Show was an interview with Deena Kastor on the power of positivity and gratitude. "Seriously?" I thought – the stars were aligned. Today would be my day.
I took the advice of my coach and started at the pace I wanted to keep the entire time, even though I was fighting to hold myself back as the crowds of people rushed ahead in excitement for the race. I knew I needed to run for 5 hours (worst case scenario) so I broke down the run into one-hour blocks so that I wouldn't think about miles. This was a lifesaver that kept me from getting too excited about my progress – if the wall hit hard, my body would be prepared to run for whatever time it needed to, as opposed to fluctuating mile times.
Hour 1 
What a beautiful first portion of the course! I loved this section. My internal dialogue went something like this: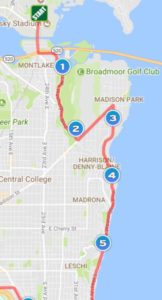 "Wow, I made it to the start line. I am ready for this."
"Running over this grate on Montlake is actually kind of freaky. Don't drop anything…"
"Don't go too fast, pull it back, keep it steady."
"These houses are so pretty! I would love a craftsman home!" 
"Wow, the arboretum is really pretty! Why haven't I been through this before?! I want to run here every day"
"Here is that hill one mile in. Keep focused… keep steady…."
"That wasn't that bad! Feeling good!"
"So this is Madrona. Why have I never been here? It's so cute! It's misty out. The mist feels so good with this humidity. The breeze off the water is wonderful. Normally I would hate these conditions but the temperature is perfect."
"Check out those views across the water. I'm so blessed to live in Washington." 
"Definitely just got crop dusted…."
"Ugh, ankles. They hurt… why do I have so many issues with my ankles. I'm only 4 miles in. Stop and stretch – yup! That helps. Thank you, God, for ankles and legs that can run. I've gotten through worse pain on long training runs, I will be fine today. My ankle pain won't keep me from hitting my goal."
"One hour in. Four to go. This is what you trained for."
Hour 2
To be honest I think I went into a zone from mile 6-10.5. This is my comfort zone and my favorite distance to go out and run casually. I was tuned into my podcast, observing the scenery. I was starting to get surprisingly tight through my hips/glute – you know, those old injuries that seem to randomly pop up? Ya… they were there. But I decided it was better to lose time here by occasionally stopping to stretch versus losing time later because of cramping. I would stop, lean forward to relieve the tension in my lower back/glute and complete a few hip opening stretches. The pain stuck with me through mile 18, but it luckily didn't hinder my speed! I continued to remind myself that most of my long training runs were not pain-free and that I survived those. I could absolutely push through this, I just needed to focus my attention elsewhere.
I had debated whether or not I would carry water. I knew there were going to be aid stations every few miles with plenty of water, but I did end up opting to carry water so that I could hydrate when my body told me to. I am so glad I did this – there was not one point in the race where I felt depleted of water. I did make a game-time decision to drink the Gatorade on the course, which I knew was a little risky since I wasn't used to drinking it. Something I learned from a nutrition clinic kept playing through my mind – if you don't supplement your water intake with electrolytes, then your body won't absorb all the water. Luckily, this worked for me and I was not surprised with any GI issues….
My internal dialogue through this portion of the course went something like:
"Wow, this road continues to be really pretty"
"Thank you, God, that I can be out and run today. Thank you that you've blessed me with a supportive husband who lets me spend so much time doing this. Thanks for giving us a dog – Boy he sure drives me crazy at times with all of his energy, but we love him! Wonder when we'll get a second dog? Wonder how he'll do with a second dog?"
"Seward Park! I'm here! Hey, I ran this for a half marathon in February – I don't remember this part of the park. It sure is pretty."
Reads sign that says "If Trump can run, so can you…." "Ha! That's hilarious." 
"Oh hey…. I know that person… they work at my company! Wonder why they are here?"
"Oh hey… that person is familiar… wait, what?! That's my gynecologist… that's random."
"I don't remember this park being this big…. this loop is going on forever."
"2 hours down, 3 to go. Wow, that's a long time still. That's ok – you trained for this and are prepared to take on this distance."
Hour 2.5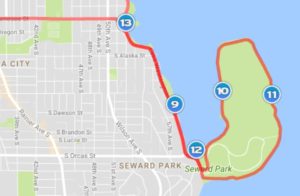 Ok – I cheated here. After 2 hours I realized I still had a long way to go. I needed to make the next hour a little less daunting so I focused on hitting 2.5 hours (only 30 minutes more). This would get me halfway there. That was doable.  By this point, I was heading back out of Seward Park and running through Columbia City. I was surprised by a nice sized little hill right before mile 13, but I made it up with no problem…. thank you hill for the confidence boost. Now let's crush the second half of this thing.
Hour 3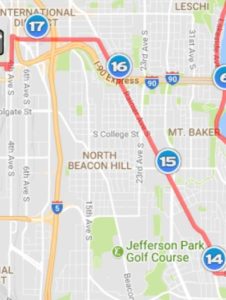 I was actually pretty relieved to be on this portion of the course. I had run this going the opposite direction last year for the Seattle Rock 'n Roll half marathon course. It was a familiar straight shot that I came to appreciate on race day. I knew what to expect here. My internal dialogue went something like:
"Oh, I am getting back on course with the half marathon runners. I guess I'm catching the back of the pack for the half runners… why is everyone walking? This kind of sucks – that's not very motivating right now."
"Liz – what are you doing. Get out of your head. Use it as motivation. Keep moving forward. You know this portion of the course – it will fly by."
"There sure are some interesting people that live on this street…"
"Hmm is that… yup! That's weed I smell. Classic Rainer Ave. This would be where I smell weed on the course. Surprise, out of towners! Welcome to Seattle…" 
"I'm feeling really good!" 
"What! Is that the stadium already? IT'S THE STADIUM!!!"
"One hour out. One hour back. That's it. That is totally doable. And that's worst case scenario – I will totally hit my goal. But if I do hit the wall hard, I will have time available to me to still beat my last time." 
"Don't get too excited, Liz. You know this is the toughest part of the course."
"I wonder if I'll see Tim at all through here? Maybe he's still in bed." 
Hour 4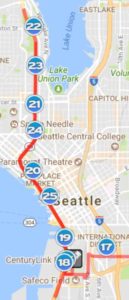 At this point, I realized that I was still on track to hit my goal. I felt good. Sure, my hips and glutes were tight. My ankles were swollen. The K tape on my calves/ankles was starting to peel off from sweat. But I wasn't hungry. I was still hydrated. I wasn't chasing down a bathroom. The weather was perfect. The views were amazing. The fog that set over Elliot Bay was peaceful. I was still running on pace. And better yet… the hill on 99 wasn't nearly as bad as what I had envisioned. I had visualized the pipeline trail in Woodinville, and I got a slow incline that was totally doable. The wind on the bridge definitely slowed me down mile 18-19, but that was to be expected.
I still remained cautiously optimistic because I knew that things could change in a flash – one bad cramp, a sudden GI issue, quads that stopped working…. anything could keep my out here longer than I wanted so I kept my sites on 1 hour out, 1 hour back. But in my heart, I knew that I was on track and that I wouldn't hit the wall nearly as hard as I did my first marathon. I was doing it – I was enjoying the marathon. I felt great! I want to remember this moment of joy that overpowered the physical pain that radiated through my lower body. This was one of those moments when you start to connect running to your real life (cheesy moment, sorry). If I can find this much joy and positivity in this moment of pain, then that can surely carry into other areas of my life.
Coach Yon caught up with me around mile 19 and ran with me a short distance. I finally learned how to drink water from the paper cups while running haha! The small wins. He offered his advice which I greatly appreciated – my legs would likely give out around mile 22. At that point, focus on using my arms and upper body to keep my momentum. It was great to have the company even for a short bit.
Mile 21-24
Right about this point, my watch was ahead of the mile markers by about .13 miles. The miles seemed to last forever. I hate out and backs, but this seemed to be the longest out ever – WHEN WOULD WE TURN AROUND?!?
My internal dialogue went something like this:
"Where am I? Oh, space needle!" 
"Why am I still running…"
"Are we ever going to turn around?"
"Still running…."
"I feel like we're running to nowhere. It's an endless street." 
"Yup, Still running…. Who moved the turn around point!?"
"Liz, get out of your head. You still feel great! Take your focus off the distance. Think about the time. Look at your surroundings." 
"Thank You, God, for…. the beautiful city I get to run in, for my legs that are still moving, for oxygen, for getting me this far, for water, for…."
"Speaking of water, where is that water station at the turnaround point!! Grrr…."
Someone going the opposite direction must have noticed my frustration… as they yelled "Run Seattle – you can do it!! Almost to the turnaround!" (Run Seattle was what was written across my headband). "Thank God for you, random human. I needed your encouragement in that moment." 
"Turn around point!!!!!! Still, haven't hit an hour. Which means I'm still on track for my goal despite all my complaining." 
"Thank you for this turn around point, thank you that I'm still running, thank you that I can be out here and attempt this today…"
"There go the quads… yes. They hurt. Not as terrible as last time. I can still keep running on pace. Keep the arms moving. Use the upper body momentum."
"My quads…."
"Should I slow down? How about just a short walking break? No, Liz. You've trained for this. Don't let all the work go to waste…"
Hour 4.5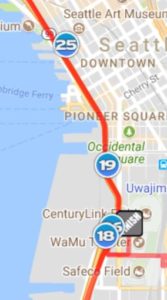 At this point, it was clear it wasn't going to take me another hour. I was on track for my goal. Now it was about getting out of my head these last 2.2 miles. Not worrying about time or distance and just running. At about 24.5 miles, coach Yon met me outside of the 99 tunnel. Thank God. Company to keep me out of my head where thoughts of slowing down or walking kept trying to sneak in. My quads were on fire, but my legs were still moving on pace. Honestly… I don't know how. It was just happening. It was all mental at this point and I needed to stop thinking and just move.
Yon ran with me for about 1.8 miles – I greatly appreciated the conversation (ok… me asking questions and him talking). The legs were doing their job, I just needed to let them. The distraction allowed that to happen. Before I knew it, he was asking what time I had on my watch and I realized I was going to hit my goal. In fact, I was probably going to exceed my goal. The last mile had been one of my fastest yet.
Coming into the finish shoot
The stadium was in site. About .4 miles out from the finish Yon gave me a few last words of encouragement and dropped back to cross over and meet me at the finish. Wow, what a surreal moment. I still had energy. My legs were still moving.
26 miles. Only .2 miles left – I'm a little embarrassed to say it, but I fought back a few tears of joys as I rounded the corner to the finish line shoot. My pace picked up. I felt strong. Happy. Accomplished…. As I entered the shoot I saw Tim to the left and yelled "It's happening. I'm going to make my time!"
Finish Line Crossed. 4:39.41. 5 minutes, 19 seconds faster than my goal. And best of all, a 43 minute PR. I did it – I crushed my time, I enjoyed the distance, and I didn't finish in a miserable state.[/vc_column_text][vc_column_text]
Recap
As I came out of the finishers area I was overwhelmed with excitement. All the work paid off. And I achieved more than what I set out to do. I still can't believe that I accomplished this. I can't believe I can still walk… The joy kept me on a high throughout the day. I'm sure that I will run Marathons in the future that may not go as planned and be miserable, but this was the race I needed to confirm that I can indeed be a marathon runner – and I can enjoy the distance. I thank God for giving me this accomplishment!
Now that race day has passed, a feeling of humility has come over me.  I recognize that my ability to run is a result of many factors – not just my training or ability to persevere. It's a result of those who have taken the time to teach me, encourage me, give me the time and support I needed to train. From my new friends at Cascade Run Club to my husband who has sacrificed some of our time together so that I could pursue this. I'm learning to value every runner's efforts, success, and potential – we all have a unique journey and our "wins" may not look the same. Running is a gift that is has taught me just how blessed I am to have a strong body that can accomplish a marathon. It's taught me to be a student of myself. I credit becoming a student of self for the last 16 weeks to allowing me to accomplish this goal. In ways like:
Paying for a better training plan
Researching how to fuel my body and testing what makes me feel my best
Learning about carbs to protein to fat ratios and just how much sugar I intake on a daily basis
Learning more about hydration and cutting back on alcohol
Listening to The Runners World Show podcast on long runs so that I could continue to learn and find inspiration through other runners
Learning from my previous mistakes and staying on top of foam rolling and stretching as opposed to trying to work everything out the week before my race (whoops…)
Learning about the significance of speed workouts
Now by no means am I an expert on myself. I have so so so much to learn. In fact, I'm sure I'll look back on this post some day and laugh at some of the things I didn't know. But I am very grateful to be in this position because it means that I have the opportunity to continue challenging myself to grow.
I am really looking forward to this next season, especially since it includes Cascade Run Club! I am excited to continue my "study of self" through new challenges, speed training, and hopefully new friendships! I look forward to my next marathon – I'm not sure when and what that will be, but I'm going to try and enjoy this moment of humility, gratitude, and accomplishment before setting my sites on the next goal (we'll see how long that lasts….).
Until next time!
@lizfilion [/vc_column_text][/vc_column][/vc_row]