Smith Tower Visit Recap – Tour Seattle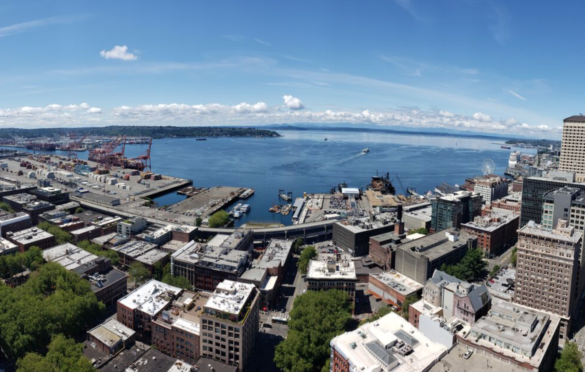 My Experience
Visiting Smith Tower has been on my list for a while! This is an iconic Seattle building that I don't think enough people tour! I really enjoyed my tour. Why?
The history is rich. Did you know that a lot of the Seattle bootlegged alcohol during the prohabition ran in and out of this building? Did you know one of the first radio stations in Seattle was out of this building? That the call centers were located here?
The views! I liked the view here better than Columbia Tower. You are high up, but not to the point where everything starts to look like legos. You have views to the eastside, over the stadiums, the ship yards, and into downtown.
New Exhibits! They've made an obvious effort to try and breathe tourism life back into this building over the past few years. They have several interactive exhibits I enjoyed going through.
Overview
Provided by Smith Tower
In 1914, Smith Tower became the first skyscraper in Seattle and the tallest building west of the Mississippi River. For more than 100 years it has remained a cultural icon of the city, offering breathtaking panoramic views and spectacular architectural beauty.
Formerly known as the Chinese Room, the 35th floor Observatory features original elements of the historic space, including ornate ceiling tiles, the famed Wishing Chair and other artifacts that pay homage to the vibrant past life and memories shared by many visitors over the years. The Observatory also features an open-air viewing deck with 360-degree views, as well as a speakeasy-style bar with classic cocktails and shareable plates.
The Legends of Smith Tower from Smith Tower on Vimeo.
Here are some of the photos from my experience: