Piestewa Peak Summit – Arizona Hiking Trails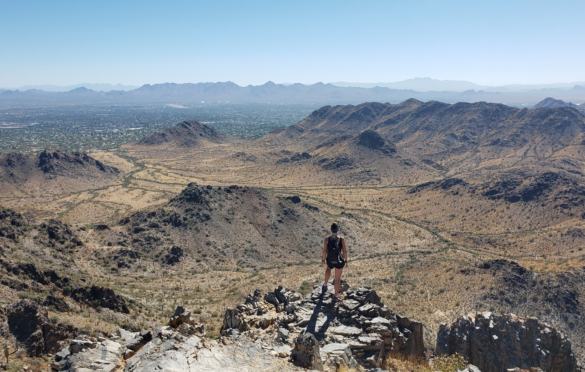 Distance: 2.8 miles (based on Garmin data)
Elevation Gain: 1,223ft
Time: 1.5 hours (though I think the average time for this trail is 2-2.5 hours)
Location: Phoenix, AZ
Trail Status: Well Maintained
Difficulty: Challenging
Required Passes: None

Parking
There is a parking lot available, but it was full when we arrived. It looks like there are plans to build a second parking lot and that is in progress. We found plenty of street parking before the entrance, though (even on a busy 4th of July morning). 
Quick Trail Report
We hiked Piestewa on Thursday, July 4th at 8 am. This is one of the 8 peaks in the Phoenix metro area so it can get busy. However, even when we arrived on July 4th, it wasn't that busy.
The trailhead signs say that the trail is 1.8 miles one way, though my Garmin watch clocked in at 1.4 miles one way (which seems to be other peoples experience on the interwebs). 
The hike starts out with several switchbacks up rocky steps. You'll have views to your back of downtown Phoenix and views to your right of the surrounding mountains. 
At the halfway point, there is a nice stopping point with a shady bench, which offers a nice break. From here, you'll navigate up some steeper points, with railings on some sections of the trail. You'll eventually curve around to the backside of the mountain to make the final climb up to the peak. This section was shaded at the time we hiked! 
The hike is definitely challenging given the incline, but very doable.  The views at the top were incredible! I personally enjoyed this hike a lot more than Camelback – the views were much more rewarding! The trails are well maintained and well marked.  
Here are a few tips based on our experience:
Water, water, water! Bring it. There are no spots to rehydrate anywhere on or near this trail.
Dogs are not allowed.
There are some port-o-potties available at the trailhead