Castle Rock Trail – Hiking Trails California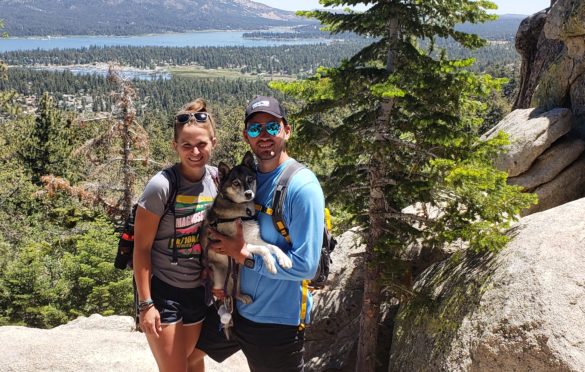 Distance: 2 miles
Elevation Gain: 596ft
Time: 1 hour
Location: Big Bear Lake, CA
Trail Status: Well Maintained, but not marked well towards top
Difficulty: Moderate
Required Passes: None

Parking
There is no parking lot, only street parking. Since street parking is located on a curvy mountain and only at the pullouts, there is a chance you'll have to walk a ways. 
Quick Trail Report
We hiked Castle Rock Trail on Sunday, June 23rd at 11 am. The hike offers pockets of views throughout the route, with 180 views of Big Bear Lake from the top of the rock. Don't worry, if you don't feel like scrambling the boulders to the very top of Castle Rock, there are still beautiful view from just below the rock. 
The hike is short, only about a mile. After about half way the trail markings end – you'll want to set your eyes on climbing up and look for a big giant rock. Once you see the big rock, you can follow the paths that circle the rock until you see the lake. Then make the boulder climb up to the top of Castle Rock.  There are lots of little trails in this area, so it's a little challenging to know exactly which route to take, especially coming down.