Paddle Boarding from Desert Tortoise Road on Lake Pleasant, Peoria, AZ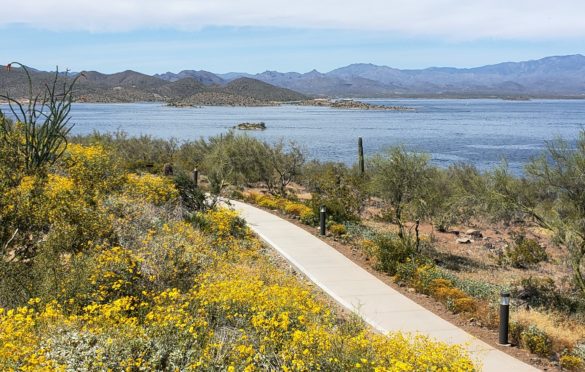 Details
Distance: Varies
Time Estimate: Varies
Skill Level: Beginner
Water Type: Lake
Directions: Desert Tortoise Rd – Desert Tortoise Rd, Peoria, AZ 85342
Fees: Maricopa County Parks and Recs pass required in park. They are sold (day and annual) in the park.
Overview
Lake Pleasant was the first paddling location I checked out in AZ! I was so excited to be back on the water after months of winter in Seattle – even if today, Tim and I were sharing my paddleboard so that we could hang out together.
Lake Pleasant, approximately six miles long by four miles wide, was created by an agricultural dam just north of Phoenix, AZ. Steep cliffs and canyons meet the water on all sides and your views include surrounding desert mountains.
Upon arriving in the park, we checked out a visitor center to get recommentdations on where to go. I was referred over to the end of Desert Toirtoise Road. This particular spot has a road that leads straight into the water. The end of the roadway will actually be fully submerrsed depending on the time of year. It was a strange feeling to look down into the water and see the painted road lines!
Parking on Desert Toirtoise Road is all paralell – we found a spot pretty easily in April. There are a few parking lots along the road that I'd imagine you could park and walk, worst case scenario.
Walk to the end of Desert Toirtoise Road and drop in. There are a few small islands near this drop in point that you can paddle around. Lake Pleasant is a large lake, so you could probably spend several days and still not see all of it! In April, the water was fairly calm since the weather was still mild. It is a popular spot for boats, so the lake can get very wavy due to the wakes.