Paddle Boarding from Duane Boyer Public Boat Launch in Big Bear Lake, CA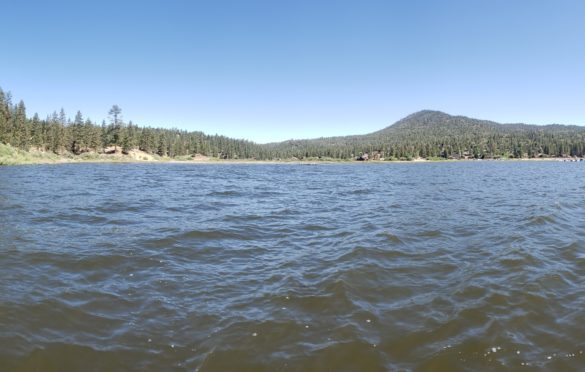 Details
Distance: Varies; 2.4 miles over to the next bay and back
Time Estimate: Varies; 2.4 miles took about an hour leisurely
Skill Level: Beginner
Water Type: Lake
Directions: Duane Boyer Public Boat Launch – 38960 N Shore Dr, Fawnskin, CA 92333
Fees: None, with no time limits
Overview
Duane Boyer Public Boat Launch is one of two free public boat launches on Big Bear Lake. The boat launch is located on the west end of the lake and has a nice sized parking lot, restrooms, and plenty of space to launch.
The water on this end of the lake (past 8:30 am or so) is quite choppy and windy. Be prepared for a workout!
My Experience
On the day I went out, the water was quite choppy. Winds were going east to west, so I opted to head out east (left) so my paddle back would be easier. Boy was this a workout! The water was consistently choppy and meant constant paddling to keep myself going east. About 1.5 miles down took me to a marshy bay perfect for bird watching!
While the paddle east took me about an hour, the paddle back to the boat launch was easy, only taking me 10-minutes (yes, that's really how windy it was)! All that to say, I'd recommend trying this route earlier in the morning before the wind picks up.
Instead of finishing my paddle at the marina, I paddled further west towards the dam where my husband was fishing. This was a pretty paddle and I enjoyed looking at all the beautiful lake houses set into the mountain. There is plenty of shore towards the dam to get out of the water, though I'll warn the shores drops off into pretty deep water so you'll need to get right up onto the shore to get out. There are also a lot of fishermen this direction, so you'll want to keep an eye out for people's lines in the water.
Here are 7 Things to Know About Paddling on Big Bear Lake