7 Things to Know About Standup Paddleboarding on Big Bear Lake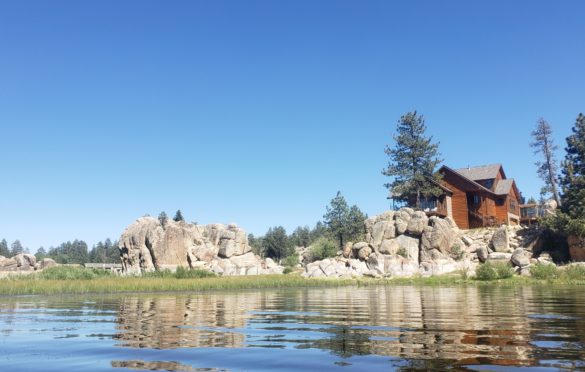 This June we took a vacation to Big Bear Lake, seeking out a location cooler than Arizona and somewhere with water for fishing and paddling (read more about our trip here). I found very little information about standup paddleboarding on Big Bear Lake, so I thought I'd share some of the things I learned!
7 Things to Know About Standup Paddleboarding on Big Bear Lake
Permitting: You must have a permit displayed on your paddleboard to be on the water that shows you've gone through the inspection for Quagga Mussels.

Any vessel traveling from another lake or the Colorado River should remain dry and out of water for at least seven days prior to entering Big Bear Lake.
If you're going to enter through on the public boat launches, they will have you stop at the parking lot entrance to ensure you have a permit/your board is clear to be in the water.
You can find the current fees here.

Lake Patrol: Lake patrol is out on the lake regularly. Of the 5 times, I was out over 5 days, I saw them four times. Don't think you can get away with no permit.
Public Boat Launch Locations: While you aren't required to launch from the boat launches, there are two public boat launches that are easy to drop in from. Noting that both of these locations do have quite a bit of wind.

Duane Boyer Public Boat Launch

, located on the northwestern shore of the lake (38960 N Shore Dr, Fawnskin, CA 92333).

MWD East

, located on the northeastern end of the lake (41911 North Shore Drive)

Boat Speeds: Big Bear Lake has a 35 m.p.h. boat speed limit except within the 5 m.p.h. buoy zones.
Lifejacket Rules: You must carry a type I, II, III or V wearable flotation devices for each person.
Wind: Past 8:30 am, I noticed the wind starts to pick up, to the point that the water will have whitecaps and will be more challenging to paddle in. I was informed by a local rent shop that they actually use sea kayaks on the lake for this reason! Prepare for a workout if you're going out in the wind. Start by traveling into the wind so your paddle back is easier. Have a backup plan if you need to get out on the shore somewhere else due to the wind.
Swimming off Your Paddleboard: Swimming is only allowed within 50 feet of the shore, within a designated swimming area, within
20 feet off a private dock, or as incidental or necessary to waterskiing, jetskiing, sailboarding or in an emergency. Meaning, if you decide to jump off your board and swim, you can get ticketed for it.
Any of these rules / tips are subject to change – be smart, do your research before getting on the water!
Here are several paddle recaps from Big Bear Lake: