Paddle Boarding Guide for Boulder Recreation Site at Canyon Lake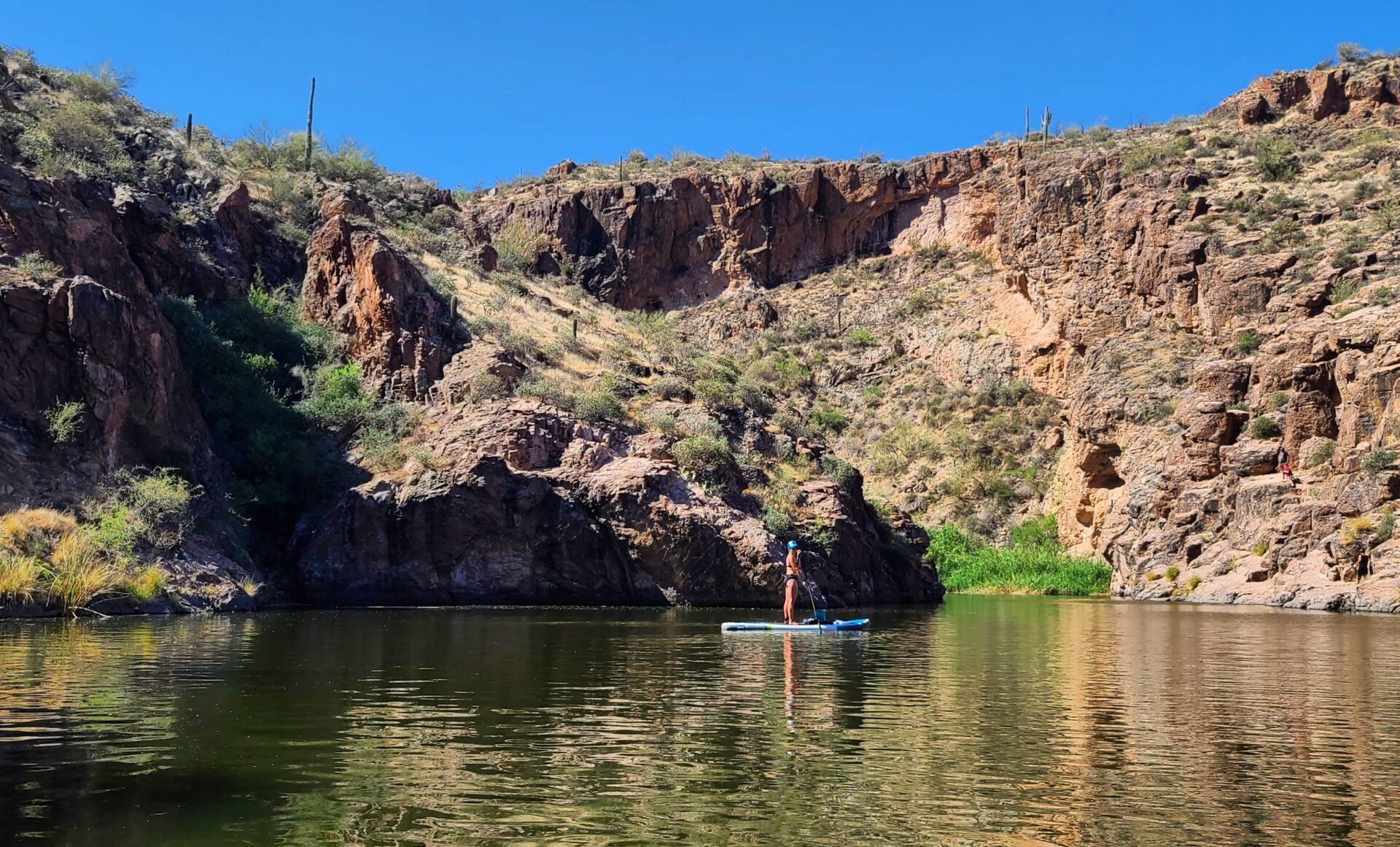 Details
Distance: Varies
Time Estimate: Varies
Skill Level: Beginner
Water Type: Lake / Cove
Directions: Boulder Recreation Site
Fees: Tonto National Forest Pass (A National Parks Pass will also work). There is no machine to get a pass at this site – you must purchase ahead of time; No pass required on the water, assuming you have no motor.
Overview
Canyon Lake, framed by steep cliff walls, is one of the four reservoirs formed by the damming of the Salt River in Arizona. With a surface area of 950 acres, it's the smallest of the lakes, with Apache Lake and Roosevelt lake upstream and Saguaro Lake downstream. Being about 45 miles from Phoenix, Canyon Lake lends itself to being a great day trip! It's located within the Superstition Wilderness of the Tonto National Forest.
Boulder Recreation Site is located on the southern side of Canyon Lake, offering great non-motorized areas for paddle boarders to explore, including La Barge Creek. The lake marina is adjacent to this location, but motorized boats are not allowed in the Boulder Recreation Area. There are great cliff jump spots and a rope swing farther down the creek area.
Boulder Recreation Site includes the following features:
kayaking, canoeing, and paddle boarding
swimming
fishing
cliff jumping
rope swing
bathrooms
picnic shelters/tables
beach
Paddle Boarding Guide
Upon arriving at Boulder Recreation Site, you'll find a medium-size parking lot that tends to fill up by late morning. There is no pass machine at this location, so you'll need to come prepared with your needed passes.
There is one main beach at this location, where you'll launch your paddle board. Once on the water from the beach, you can head in one of two directions:
Left Towards Canyon Lake (Orange Arrow): Pass under the bridge and keep left of the marina docks. Once you navigate past the marina, you will find yourself within the main body of Canyon Lake.
Right Towards La Barge Creek (Pink Arrow): Turn right from the beach and you'll follow quiet waters into a creek/cove of La Barge. The creek will eventually dead-end after about 3/4 miles, where you'll find shallow enough waters and rocky shores that lend themselves to a great picnic spot. Along this route, you'll find canyon walls perfect for cliff jumping, a rope swing, and plenty of swallows making their nests along the canyon walls. The creek does narrow at points, but it's wide enough at all points for paddlers to pass in both directions. HIGHLY recommend you check out this direction at least once.