Paddle Boarding in Washington Park Arboretum – Seattle, WA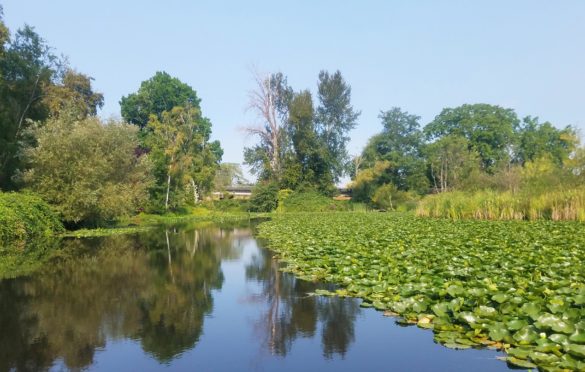 [vc_row][vc_column][vc_column_text]
Details
Distance: Varies
Time Estimate: Varies (1-2 hours)
Skill Level: Easy
Water Type: Freshwater Lake
Directions: Duck Bay / Parking Lot # 16 – 2750 E Foster Island Rd, Seattle, WA 98112
Fees: None
Overview
The fact that I've lived in the Seattle area for eight years, now, and have never paddled the Washington Park Arboretum, is a little embarrassing! I feel like this should be the first paddle that anyone does when visiting or moving to Seattle.
The Washington Park Arboretum is a 230-acre public park jointly managed by the University of Washington Botanic Gardens and the City of Seattle. The park is filled with native plants, wetlands, and wildlife and is the perfect place to run, walk, bike, tour, bird watch, and of course, SUP. The water pathways weave through hundreds of lilypads, past docks, and under bridges.
I recommend launching from Duck Bay, which is conveniently located near a free parking lot. When I parked there at 10 am, I had no issues finding a spot! From the parking lot, you'll walk a short distance down a maintained trail to a small "beach" area where you can launch your paddleboard. The ducks (ahem, "Duck" Bay) are very used to people in this area. You'll likely make friends with ducks who swim right up to the edge of your paddleboard.
From Duck Bay there are three water path options:
Left: Going left will have you paddling through a quite, wide, water pathway lined by hundreds of lilypads. You'll be heading towards the direction of the University of Washington. The water is deep and calm through this area.
Straight: Going straight out from Duck Bay will send you through a narrow waterway lined with lilypads. This path is a cut through going the same direction as the left waterway. You'll likely snag some lilypads and sticks, but the route is entirely doable (though it's challenging to pass others going the opposite direction through this area).
Right: Going right will send you further into the arboretum. This waterway is beautiful – I saw several Blue Herons and turtles. This route is particularly challenging on a SUP, though. Water levels unexpectedly get low in areas, you'll have to lie flat on your SUP board to get under several downed trees that cross over the waterway, and you'll likely snag on downed logs or seaweed hidden by the muddy water.
All the water paths end up connecting, out in Lake Washington, so enjoy your time exploring all of them!  You'll have surrounding views of Union Bay, Lake Washington the University of Washington campus, and the Cascades and Olympics. The 520 bridge crosses over the marshland, so if you want to go for a longer paddle, you can easily pass under the bridge into Lake Washington. Be aware that there is heavy boat traffic through this area, though.
While I think the arboretum is better suited for kayaks or canoes, versus standup paddleboards, I still recommend checking this area out at least once! As mentioned, the water levels are fairly low in some areas and the muddy waters hide fallen trees and a significant amount of seaweed. Don't anticipate a quick paddle, as you'll need to keep your eyes open and be prepared for occasionally catching a log with your paddle fin.[/vc_column_text][/vc_column][/vc_row][vc_row][vc_column][vc_gallery type="image_grid" images="3044,3045,3046,3047,3048,3049,3050,3051,3057,3052,3053,3054,3055,3056″ img_size="full"][/vc_column][/vc_row]