Paddle Boarding Guide to Tempe Town Lake in Tempe, Arizona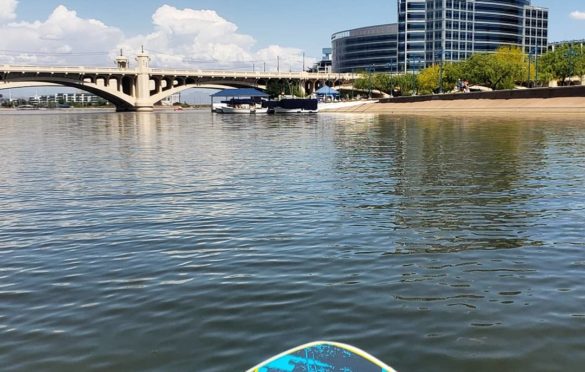 Details
Distance: Varies; approximately 2.34 miles for the bridge lap
Time Estimate: Varies
Skill Level: Beginner
Water Type: Still "Lake"
Directions: Tempe Town Lake Marina – 550 E Tempe Town Lake, Tempe, AZ 85281
Fees: A boating permit is required! They are $50 annually per watercraft, discounted to $25 if you are a Tempe resident (purchased online here). Daily permits are also available for $10 per day.
Overview
If you were to ask anyone in the Phoenix Metro area where to paddle, they're probably going to tell you Tempe Town Lake. Tempe Town Lake is a reservoir located north of downtown Tempe at the confluence of the Salt River and Indian Bend Wash. The "lake", as they call it, receive most of its water from the Colorado River. It's the most convenient spot within the Phoenix Metro area to paddle.
The lake is roughly 2 miles wide, so plenty of water to cover! The lake is surrounded by several parks, shopping, and office areas. Though there are plenty of drop-in points from small docks around the border of the lake, the most convenient place to drop-in at is at the Tempe Town Lake Marina (plus, you can rent boards from a place in the marina).
Tempe Town Lake Marina has no parking restrictions/fees, though I'll note it's worth checking if there are any events happening that might limit your parking options.
The water is not the cleanest. Personally, I would not swim in this water (there was duck poop on my board by the time I was done with my paddle). The water is very still, making this a nice spot for those just getting the hang of paddleboarding. For those with more paddle experience, this probably won't be the most exciting paddle.