Kayaking from Boulder Bay at Big Bear Lake, CA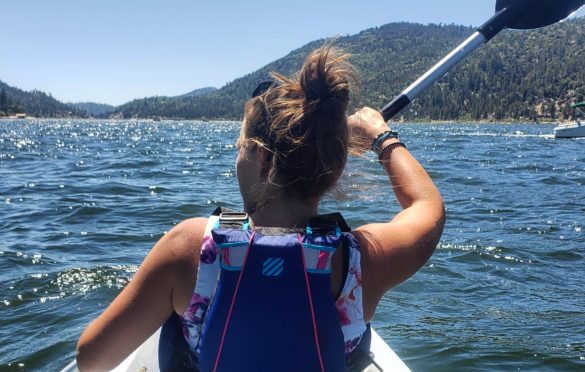 Details
Distance: Varies
Time Estimate: Varies
Skill Level: Beginner-Intermediate (depending on how far you go out of the bay)
Water Type: Lake
Directions: Boulder Bay
Fees: None, with no time limits
Overview
Boulder Bay is located on the southwest corner of the lake and is a popular hangout spot – whether for fishing, sunbathing, paddling, or picnicking. There is a nice sized parking lot and plenty of parallel parking spots on the street. Next, to the park, there is a SUP and Kayak rental shop with easy access.
From the parking lot, you'll want to walk towards the flagpole along the shore. To the right of the flagpole is a path down to the water, which is your best bet for drop-in. 
The bay's waters are fairly calm. As you navigate further out of the bay, the waters will pick up and become more choppy (though fairly navigatable even for more novice paddlers. 
My Experience
I know, I know. What am I thinking… a kayak post instead of a SUP post? For our anniversary, Tim and I decided to rent a tandem kayak and go out from Boulder Bay. This information should be equally valuable for paddleboarders.
We rented from Big Bear Kayaks, which is right next to the park at Boulder Bay. Paddling this area was probably one of my favorite places to paddle. There is a nice beach, really cool rock islands to paddle around, and neat houses sat up into the rocks along the shores. The waters are fairly calm in the bay, which would make it a perfect place for beginners to learn how to paddle. 
We ended up paddling out of the bay, taking a right (east) and floating down a way before making the paddle back into the bay.