Paddle Boarding from Butcher Jones Recreation Site on Saguaro Lake | Fort McDowell, Arizona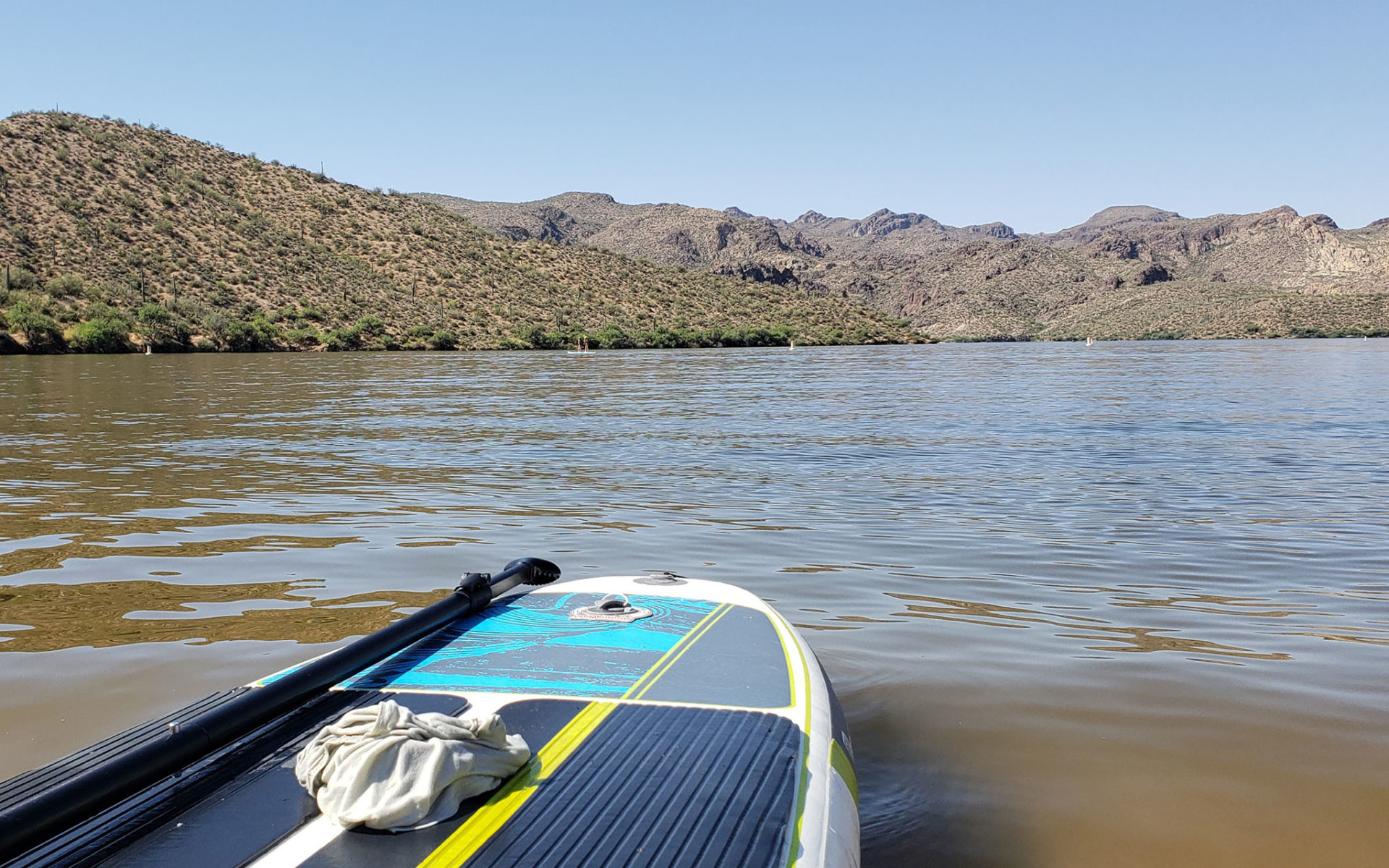 Details
Distance: Varies
Time Estimate: Varies
Skill Level: Beginner
Water Type: Lake
Directions: Butcher Jones Recreation Site
Fees: A Tonto Daily Pass or Tonto Discovery Pass are required. America the Beautiful Passes are only accepted at the picnicking sites. $4.00 watercraft sticker per watercraft.
Overview
Saguaro Lake is set in Tonto National Forest within the Sonoran Desert. It's one of four reservoirs along the Salt River and is beautifully rimmed with canyon walls and towering saguaro cacti. It has more than 22 miles of shoreline with plenty of coves to explore!
Being just a 20 minutes from Mesa, Arizona, it's a very convenient place to paddle board and cool off! Given its proximity to Phoenix, and that the lake is friendly to boating, paddle boarding, sailing, skiing, jet skiing, fishing and camping (and safe to swim in), the lake does get very busy. It's best to arrive as early as possible to miss the boat traffic (and resulting waves) on the water. The two times I've paddled on the Saguaro, I've arrived around 7am and found that to be perfect!
Butcher Jones Recreation Site is best known as a picnic spot. It has a large beach, restrooms, picnic shelters, and mesquite trees for shade. There is also a hiking trail adjacent to the beach.
When you first arrive, you'll have the opportunity to purchase a day pass upon entering the parking lot. If you already have one, then proceed forward and find a parking spot! The parking area wraps around a center island in a circle. So if you don't find a spot immediately, don't fret, yet. The beach area is deep, so you could consider pulling up close to the beach and dropping off your board prior to parking. You'll need to place your pass in the windshield of your car.
There is a long gradual beach that you'll need to walk your paddle board out a bit into. Once in the water, I'd recommend veering left or right, vs. heading straight into the lake. There is a fair amount of boat traffic so generally, it will be safer to paddle closer to the edges.
Paddle boarding left (the pictures below feature this option) will take you into several marshy coves, where you'll find birds and dragon flies galore. Paddle boarding left will take into into a large rock cliff cove that is very majestic. It will also take you closer to the marina, where boat traffic will be higher.
Enjoy!