Paddle Boarding from Juanita Beach / Lake Washington in Kirkland, Washington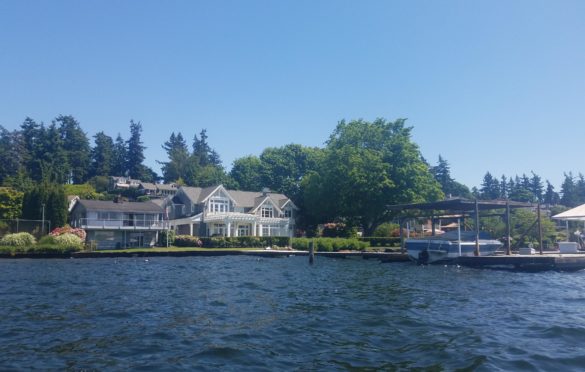 [vc_row][vc_column][vc_column_text]
Details
Distance: Varies; approximately 2.4 miles to cover the small bay area
Time Estimate: Varies
Skill Level: Beginner to Intermediate
Water Type: Still Lake to Boat Current
Directions: Juanita Beach Park – 9703 NE Juanita Dr, Kirkland, WA 98034
Fees: None – parking at the park is free; signs say 4-hour parking limit, but never ever have I ever seen anyone down there monitoring parking
Overview
Juanita Beach has been my go-to paddle launch spot since I started to SUP. In fact, it was my daily walks down to this beach that inspired me to buy a paddleboard and it's likely why I keep coming back to this beach (so I'm probably a little biased to this small bay area). Juanita Beach is located on the northern end of Lake Washington in North Kirkland. While you'll probably hear rumors about the water being dirty, you really don't need to worry about that until August/September when the algae begins to bloom. I've paddled and swam this area many times in the past four years and I've not once had an issue from the water.
Juanita Beach Park has a large parking lot, though the place packs out in June and July. If you're going to try and paddle during these months, I would recommend getting to the park before noon or plan to park in one of the surrounding neighborhoods. The park has resources that include:
Enclosed Swimming Area
Lifeguards on duty July 1st-Sept 2nd from noon – 6:00 pm
Picnic Tables
Children's Playground
Public Dock
Beach Volleyball courts, first come, first serve
Restrooms/changing rooms/outdoor showers
Open Lawn Areas
Horseshoe Pits
There is a large dock that closes off a large swimming area. You're going to want to launch your paddleboard from the right-side of the dock. Beach access is located next to the volleyball courts down a sandy pathway, located between trees/tall grass. The water can get quite shallow at certain times of the day, so plan to walk your board out for a way.
Once you're on your paddleboard, you have a decision to make – go right, or go left?
Going left from the launching point at Juanita Beach will have you paddling alongside the docks towards a nature preserve area. You can skirt along the outside edges of the buoys and continue along the shore, where you'll see 100's of lily pads and potentially turtles and eagles. The water tends to be calmer in this direction until you start to get closer to Downtown Kirkland, where the wind starts to pick up and push you towards the shore and docks. Not only do I love this direction for the wildlife, but also for the beautiful houses that line the shores of Lake Washington.
Going right from the launching point at Juanita Beach will keep you in calm waters and in an area that doesn't usually get sun until later in the day. The waters will remain calm (with the exception of boat traffic) until you turn the corner from the bay, at which point the waves pick up quite a bit and you can anticipate putting in some work to continue moving forward along the shore. The water is a lot deeper on this side, so I recommend you enter with caution if you're swimming still needs some work.  You'll still see beautiful homes lining the shoes on this side of the dock, with the occasional Herron eying you down from a dock.
Note there does seem to be quite a bit of boat traffic in this area during the summer afternoons, so proceed with caution if you're going to cross the bay or if you're not comfortable with choppy water.
The area experiences frequent and intense algal blooms in the late summer and early fall, so I recommend checking out Juanita beach prior to August.[/vc_column_text][/vc_column][/vc_row][vc_row][vc_column][vc_gallery type="image_grid" images="2997,3000,3001,3002,3003,3004,3005,3006″ img_size="full"][/vc_column][/vc_row]