Tips on Renting a Houseboat in Seattle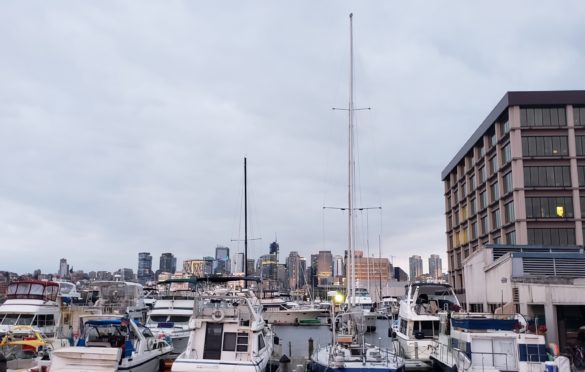 I've loved having the opportunity to stay in a different neighborhood and different home style each time I've gone back to Seattle for work. Staying in a different neighborhood has given me the chance to "live like a local" in a neighborhood that I'm used to only visiting!
Most recently I rented a houseboat on South Lake Union in Seattle! Staying on a houseboat has been something I've wanted to do for a while – I love being on the water (in case you couldn't tell from all my paddling posts).
While I'm not an expert houseboat renter, I thought I would share tips based on my most recent experience!
Where To Stay
As of August 2019, here are all Seattle houseboats on Airbnb that are under $300 a night (most are around $150-$200) and not a Yacht/Sailboat.
https://www.airbnb.com/wishlists/598363797
I stayed at the "Classic houseboat on the lake in Seattle". The reason I selected this particular houseboat was one, it was inexpensive for my travel dates, two, it looked to have the most normal-looking shower for the low-cost options I was looking at, and three, it looked to have a direct view of downtown. Now would I stay here again after my experience? Probably not. But would I try another houseboat? Absolutely.
Tips on Renting a Houseboat
In a lot of ways, staying on a houseboat is similar to renting a condo. You can have a kitchen with an oven, fridge, microwave, running water, etc. Some units even have washer/dryers available! You can sleep in a normal-sized bed and have cable/television.
There are, of course, some obvious differences (besides the fact that you are floating on water vs. sitting on land). Here are some of those differences:
The Boat Will Move
Hopefully, you already anticipated this one….but the boat will rock and move on the water. It's usually very subtle. If the waves do pick up though, the houseboat will rock significantly. As long as you aren't playing Jenga, though, houseboats are set up so that everything doesn't topple the moment a few bigger waves hit. Your blinds and unlatched cabinets will likely knock against the walls.
Over the course of 6 days, I only experienced this three times – once during a thunderstorm and two other times when larger boats came quickly by the docks.
But will I get seasick? This depends on how sensitive you are to water movement. I could see one getting seasick on their houseboat during a storm. So, maybe check the weather before you book!
Running Water
There are different types of setups you could have on a boat, but I generally think of the houseboats similar to a camper! If you are staying on a dock in Seattle, you're going to be hooked up to the city water line.
Smaller and older houseboats only have a freshwater tank. This means that the owner needs to, or at least should, fill up the tank prior to your stay. You should ask about this! Specifically – "Is your houseboat hooked up to the waterline or use a freshwater tank? Can you make sure the water tank is full prior to my stay?"
This sounds silly – but I definitely ran out of water during my shower on my first morning (one of the reasons I will not be staying with this host again). Don't be that person standing in the shower, with no running water, and conditioner still left in your hair….
The Bathroom
The Toilet
To carry on with the whole water situation, houseboats have a dark water tank that needs to get emptied each week. Smaller boats only have a 15-20 gallon dark water tank. Prior to your stay, you should ask when the last time the dark water tank was emptied.
Otherwise, you'll also end up like me…. having to use the marina bathroom for the duration because someone forgot to get the dark water tank emptied prior to my stay. This honestly was a complete disaster – I flagged that I thought the tank was full because the smell was off and it appeared that sewage was draining into the lake. Yup – that's a thing. Never ever will I swim in South Lake Union…
Did you know there are different types of toilets on a houseboat? While you can have a normal toilet, some have a Marine toilet. You can learn about that here.
Shower
There are different types of showers on a houseboat. Before your stay, make sure you see a photo of the shower so you can ensure it will meet your needs. This was actually a factor in what houseboat I selected for my stay.
Privacy
There is very little privacy on a houseboat. You are docked closely to your neighbors. If your windows are open, you're going to be looking directly into their home. If you're sitting on your deck, you're likely looking at your neighbor sitting on their deck! Hopefully, this one is not a surprise, but if you are wanting your space, peace, and quiet, a houseboat rental on South Lake Union may not be your best option.
Here are some photos from the houseboat I stayed on!
Gate to the dock the houseboat was on

A rainy morning walking down to the houseboat
The houseboat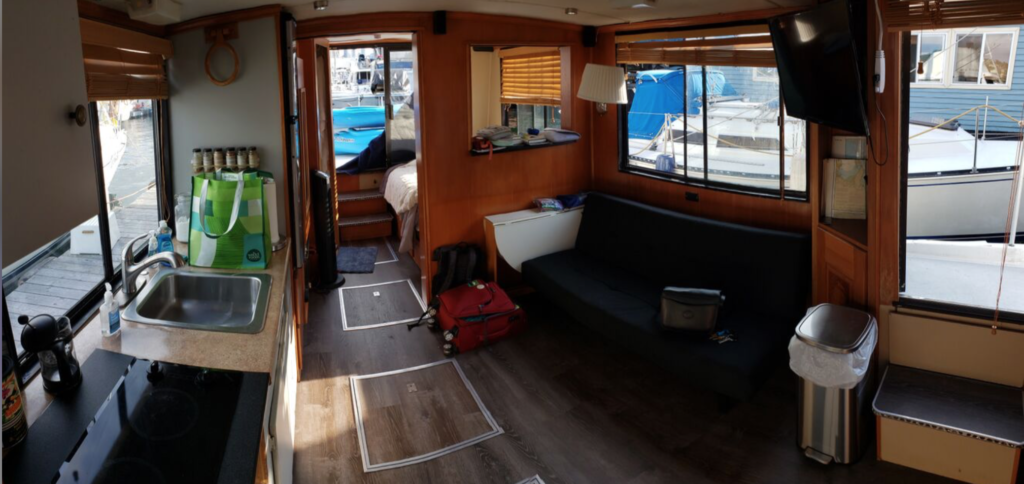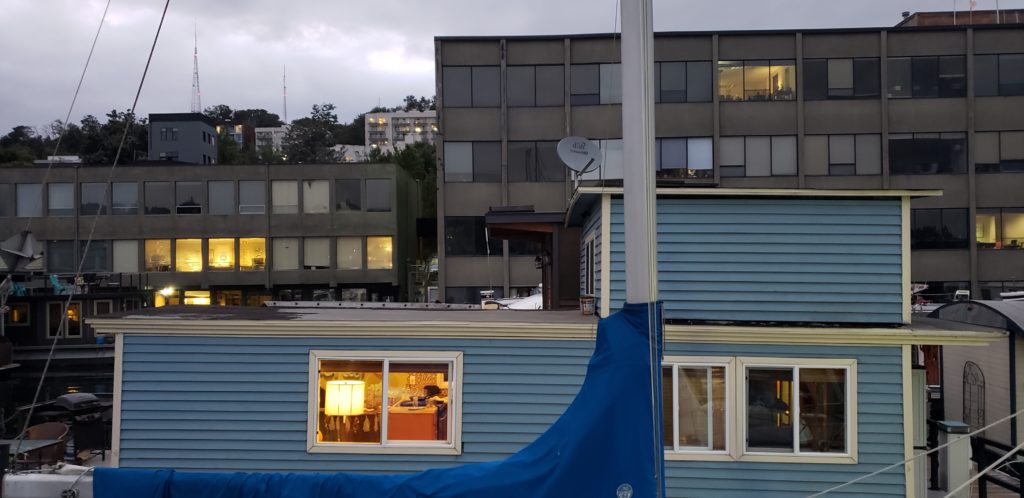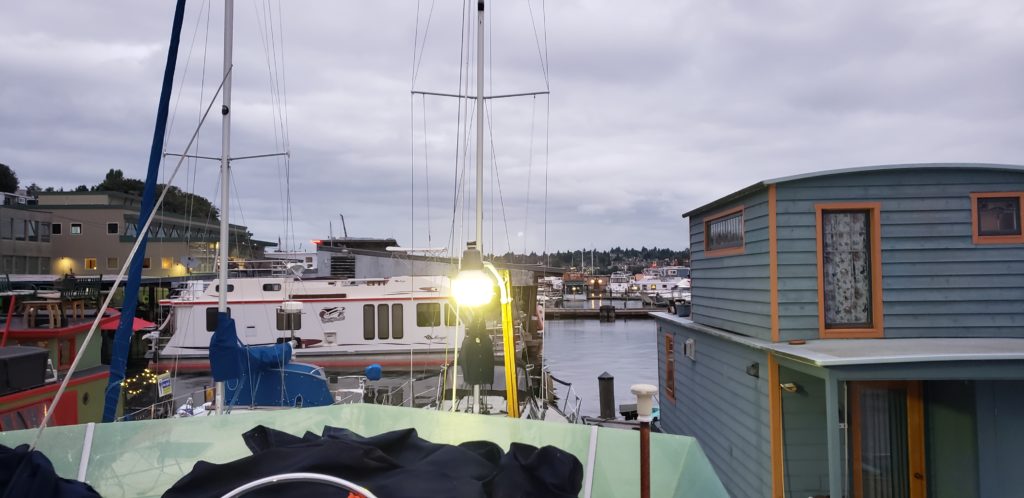 View straight ahead

The neighboring houseboat cat